Because it is not possible to watch the complete process of picture restoration over several weeks from start to finish, the stages of development which we follow are fundamental to our process.
Our process is started following every enquiry by needing to understand the customers requirements and expectations. This will be done in the first instance by email and/or a follow-up telephone conversation.
This first conversation will then establish whether the picture/pictures will be examined by us in situ or whether the customer will deliver the picture to us or require us to set up our door to door courier service . Once delivered to us we will then provide a written report of the restoration requirements and relative costs. An estimate will be provided at this time of the number of weeks it is expected to take to complete the restoration before returning the picture to the customer.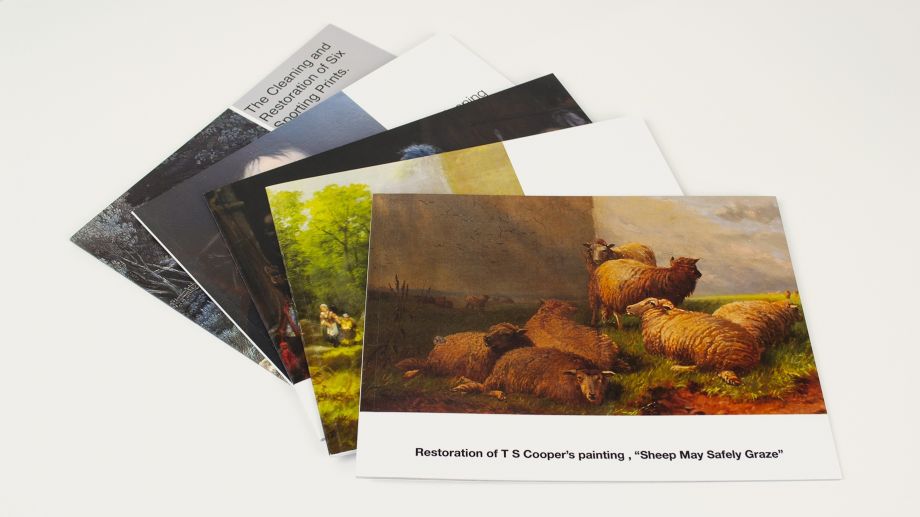 Printed records of the past and restoration
A particular feature of our Restoration of Paintings is the photographic record we make from the beginning of the restoration process.
These records were first started for our own security but as a result of requests from some of our clients to share our photographic records we are now able to offer a printed booklet of all pictures which we restore, before and after the restoration.
Details of particular features discovered during restoration, such as lost signatures, are especially recorded and where appropriate a short description in words of those features is included
"In order to complete the best outcome, each stage of development will be dependent on the care and success of the previous one."